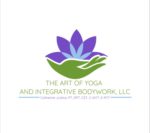 Short Business Description
The Art of Yoga and Integrative Bodywork is founded by Catherine Justice, a Yoga Teacher/ Yoga Therapist, Integrative Physical Therapist, and CranioSacral Therapist in the Twin Cities area.
Long Business Description
Catherine is a licenced integrative physical therapist, certified CranioSacral therapist, and a Certified Yoga Therapist. In her private sessions, she utilizes each of these skills to meet the needs of her clients. She practices with an integrative and holistic focus, looking at the complex interactions of the systems of the body, while taking the whole person and their life/ lifestyle into account. She treats adults, children, and infants of all ages.
Each of these one-on-one sessions is tailor-made to work with your body and your needs in order to help you achieve your goals. A student can decide if they want strictly yoga, physical therapy, CranioSacral Therapy or a combination of any of the three. This is a great option for people with injuries, special conditions. The therapeutic yoga sessions are excellent for people new to yoga, experienced yogis looking to deepen their practice, or anyone wanting more personal attention in their approach to yoga and their body.