I was recently invited to bring my kids to try out Snip-Its Haircuts for Kids in Maple Grove. I had never heard of Snip-its before, and I was curious about how my kids would like it (plus their hair was starting to get a wee bit shaggy!), so this past week I brought them in for some haircuts.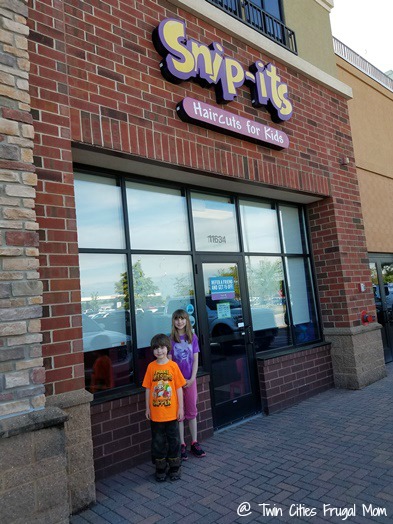 Snip-its is a national chain of franchises and the Maple Grove location is the first one to open in Minnesota.
When we entered the salon, we were greeted by colorful and whimsical fun for kids everywhere. The whole place was full of bright colors and cheerful faces of the Snip-its "Gang" characters (as statues and images around the shop) – Snips the Scissors, Curly Comb and Flyer Joe Dryer, to name a few.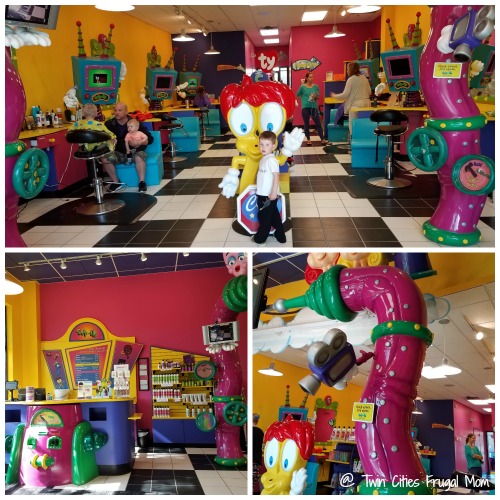 There was a waiting area with kids' books, and the front desk had a fun look with a machine that gave out prizes. Walk-ins are welcome so we filled out a brief form with our info, turned it in and waited our turn.
The place was busy with kids of all ages getting haircuts – babies to older kids (their target range is ages 1-12).
When it was our turn, we were invited to a chair. Each station had a seat for mom or dad, and a TV. The TV was off but we were asked if we'd like to have it on to watch cartoons or play a video game. My daughter didn't want it on when it was her turn, but my son was totally wanting to try the video games!
The haircuts went quickly and easily – our stylist was great and attentive. She asked what we wanted – how much cut off and how, and we looked at some books that had style ideas. [Read more…]