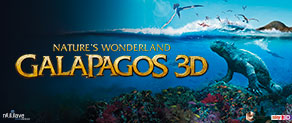 I received a great family event announcement from the Minnesota Zoo to share!
Family Night returns to the Great Clips IMAX theatre at the Minnesota Zoo on Monday, Oct. 20, featuring GALAPAGOS 3D: Nature's Wonderland!
Admission for the night will be just $5, and will include pizza, courtesy of Sprint, and beverages, courtesy of Sam's Club. These refreshments will be served in the lobby starting at 5:45 pm, with the film set to begin at 6:30 pm.
WHAT:
The Great Clips IMAX Theatre at the Minnesota Zoo has teamed up with Sprint for Family Night on Monday, October 20. [Read more...]